Luxury Vinyl Plank Flooring
Callahan's Carpet One Floor & Home in Hudson carries the most popular and trending luxury vinyl flooring options available. One of those hot flooring trends today includes luxury vinyl plank flooring. Luxury vinyl plank falls under the wood look flooring category, which is a popular option among many homeowners. Luxury vinyl planks combine the natural and authentic looks of hardwood with the durability and resilience of luxury vinyl. Compared to hardwood, luxury vinyl planks are more cost effective and can fit just about any budget.
Below are a few benefits to installing luxury vinyl planks in your home.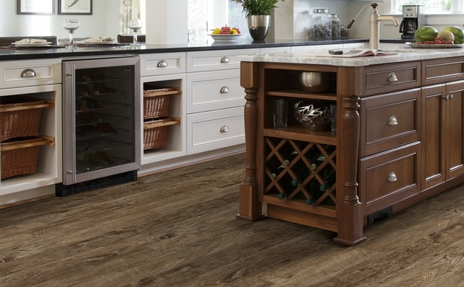 Water Resistant and Waterproof Options
It may not be a homeowner's dream to have waterproof flooring in their home, but it definitely is an added benefit. Unlike hardwood flooring, luxury vinyl is resistant to moisture and changes in humidity. There are also options that are made to be entirely waterproof. Achieve the look of hardwood in your bathroom or laundry room where you couldn't have hardwood before.
Luxury vinyl plank flooring is also a pet friendly option. The wear layer of most luxury vinyl planks can resist scratching and can handle accidental pet accidents if you cannot get to them fast enough. Take a look at our Carpet One Floor & Home exclusive brand Invincible™ H2O. It is a 100% waterproof luxury vinyl plank option that looks just like real hardwood. No longer worry about your pets having accidents and you not being able to get to them fast enough.
Installation and Maintenance
Luxury vinyl flooring is easy to install and is very efficient. In most cases you can install luxury vinyl flooring over any type of subfloor, and in some instances over existing flooring. Luxury vinyl can be either glued down or floated. Floating luxury vinyl planks are popular because they take less time to install, you can walk on them the same day, and you can even choose to move them to another room in your home.
If you do not want to put a lot of effort into maintaining and cleaning your floors, then luxury vinyl is a good option for you because it only requires regular maintenance such as sweeping and occasional mopping. Unlike hardwood flooring, luxury vinyl planks do not need to be refinished, making them a long-lasting and practical option.
If you'd like to learn more about luxury vinyl plank flooring, visit our showroom and speak with one of our flooring professionals.